Over the past few months during the COVID stay at home orders, Metro Denver homes sold per week was down 454 fewer per week compared to last year (2019). Some other notable things we saw:
iBuyers Cancelled Contracts (Zillow, Open Door, etc) 

Lending Guidelines have tightened up guidelines and re-checking income up until closing

Home showings were not allowed prior to contract being accepted (then buyers were permitted to an in person inspection)
Closings were done in the car (curbside closings at the title companies)

Many sellers took homes off the market
Now that the restrictions have lifted, we are seeing some big changes and the market is improving even faster than many predicted:
In person showings allowed

Many homes are coming back on the market

Demand is stronger than ever (to many people's surprise)

Multiple offers are common because there is not enough homes for sale to keep up with demandHere's what you need to know about the Denver Metro real estate market from someone on front lines… Let's look at the stats below, break them down, and come to an honest conclusion.
Homes are selling FASTER than they did this time last year (2019). On average, a home is on the market for 23 days. Homes over ~ $600,000 are taking a bit longer, and homes under $500,000 are selling much faster.  Seasonally you can see homes sell quicker in warmer (peak) months so I anticipate this dropping even more this summer. With a lot of pent up demand during COVID restrictions, buyers are moving a fast pace to move!
DAYS ON MARKET is DOWN 4% From Last Year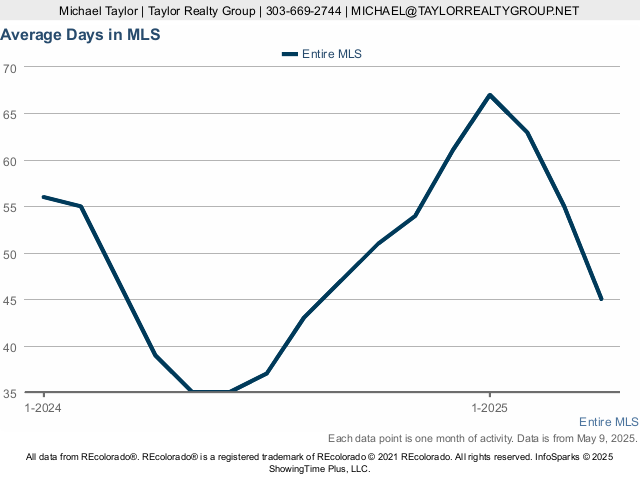 We ended May with a supply of 7,170 homes on the market (attached and detached). To add context to this, the record high for February was back in 2006, where we ended with 25,484 active homes on the market, while heading into a recession! So, demand is still high, and supply is still very low.

# Homes For Sale DOWN 44% from last year 
The # of homes for sale is lower than this time last year. This explains the decrease in the days on market above. As fewer homes are for sale, if buyer demand even stays constant,  homes will simply start selling faster due to a shortage of homes for sale. Many experts predicted the # of homes for sale would increase big time by now and homes would take a long longer to sell….thus turn more in favor of buyers. We just aren't seeing that 'yet' but time will tell as we approach the typical busier selling season of springtime.   .
# Sold Homes is Up 4% from Last Year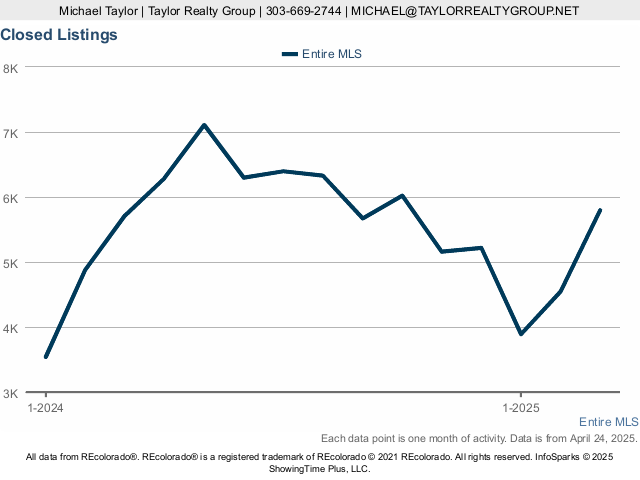 So the # of homes for sale is down. Homes are taking about the same amount of time to sell, and  # of closed homes is up. This all points to a stronger market than last year surprisingly. Great news for home sellers who have been waiting to time the market or make a move up or down. For buyers it means they may do well to get IN the market if they were waiting for it to slow. It appears we hit a little blip late fall but signs point that this year will be a faster, more improved market for sellers.
Median Sales Price of Single Family Homes UP ~ 5% From Last Year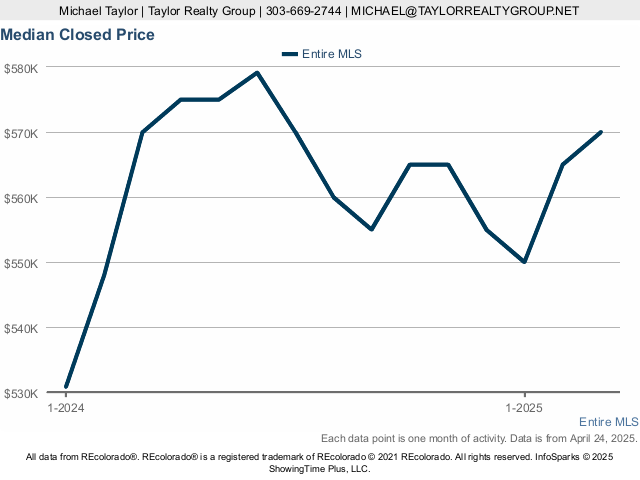 For my number nerds, you KNEW this stat had to happen. With fewer homes for sale and more selling…that variable that grows is sales price! Less supply/equal or more demand = Increased prices. This is why I am saying it's wise for buyers to get in the market now if they are waiting. It does not appear prices will correct this year. We were waiting to see how the market did coming out of the holidays and it appears to be poised for a strong spring.
MONTHS SUPPLY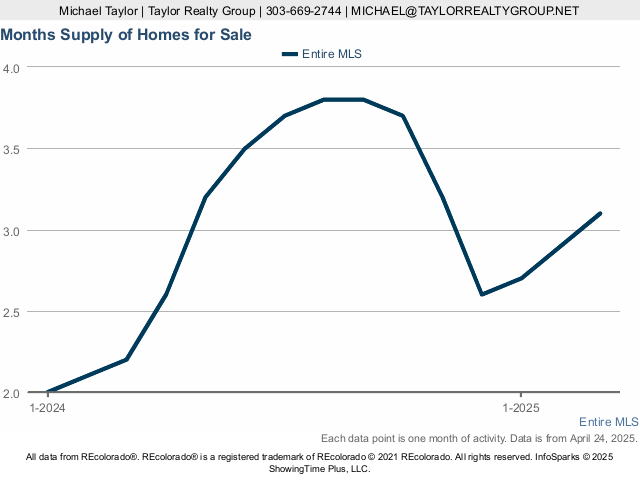 This is where rubber really hits the road (Again!) IF no new homes came on the market, we would be sold out of homes in only 1.3 months! Last year at this time we wer closer to 1.5 months of inventory. The net decrease is not substantial but worth paying attention to.
As I predicted in my last report, the market is stronger than it "feels". The number that bears watching is the days on market and # of homes for sale. They go hand in hand are tied to supply/demand. Interest rates are actually lower now than they were just a few months ago which could be playing a factor in spurring buyer interest/demand. Home prices are not rising too fast either (which scares off buyers) so this would indicate that more buyers may come back into the market who were nervous about going "homeless" or not wanting to get into "bidding wars".
For those waiting for a market crash, they will need to keep tabs on defaults/foreclosures/short sales. A lot of homeowners have used their current home as a bank account and drawn out their equity in cash. IF home prices don't hold and they have to unexpectedly sell when they don't have enough remaining equity to cover selling expenses, this can cause quick disaster for the market. What is interesting however is that default rates are still pretty low. I am watching default rates closely and will keep you informed of any trends worth noting in future updates.
Have a real estate question? Fill out this form and I will give you a shout right away!