2021 is underway. Some national sites claim Denver is the 2nd most competitive market in the country w/more than 66% of home buyers facing multiple offers (bidding wars). The only market more competitive is San Diego. Here are some notable trends: 
Some iBuyers Are Back (Many cancelled Contracts (Zillow, Open Door, etc) 

Lending Guidelines are loosening back up (Dreamer programs, Jumbo, etc) where they had tightened up after COVID hit last year

Home showings are allowed

Many sellers are still not listing their homes (see notes below as to why) 

Demand is stronger than anyone anticipated

Multiple offers/Bidding wars are common because there is not enough homes for sale to keep up with demand.
Here's what you need to know about the Denver Metro real estate market from someone on front lines… Let's look at the stats below, break them down, and come to an honest conclusion.
DAYS ON MARKET is DOWN ALMOST 50% From Last Year (Now 27 Days)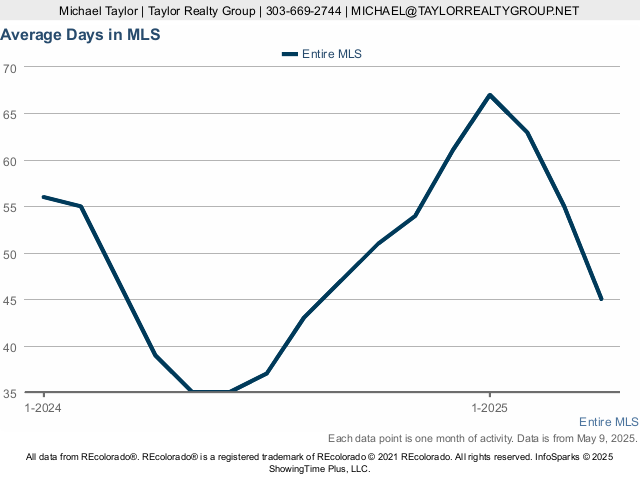 Look at that! Homes are selling twice as fast as they did this time last year. Average days on market is 27 days, but many are contracting in just a few days.

# Homes For Sale DOWN 44% from last year (Less than 4000 homes for sale!)
Supply continues to lag behind the home buyer demand, meaning there are simply more buyers than homes for sale. This results in home prices continuing to rise. Buyer demand seems to be stimulated in part by low interest rates. The number of homes for sale across Colorado is down almost 60% from last year so these converging forces are creating a rather frustrating market for home buyers….but a lucrative one for sellers. The financial gain for sellers does not seem to be enough incentive for more sellers to list and I believe this two fold due to COVID. I believe many sellers are concerned about affordability of their replacement home and with the uncertainty of COVID, many are deciding to stay put for now. Denver metro market, inventory is down about 50% which is still a huge drop.
# Sold Homes is Up ALMOST 50% From Last Year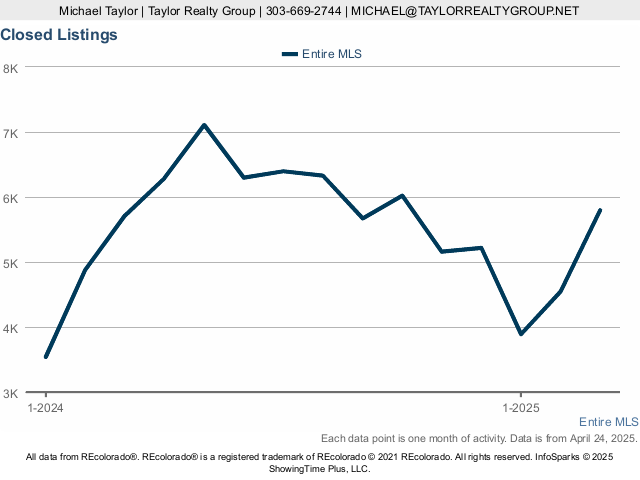 So the # of homes for sale is UP big time while the # of homes for sale is down. This means if more homes don't come on the market soon….we could literally be sold out of homes for sale. Meaning there will be zero inventory. That is unheard of. This is my 16th year in the business, however, and my prediction is we will see a rush of sellers this spring once the weather warms up, the vaccine is more widely distributed (regardless of your belief here, many will feel more confident which will lead to more sellers), and sellers decide to cash out their equity and either move up or move out of state.
Median Sales Price of Single Family Homes UP ~ 10% From Last Year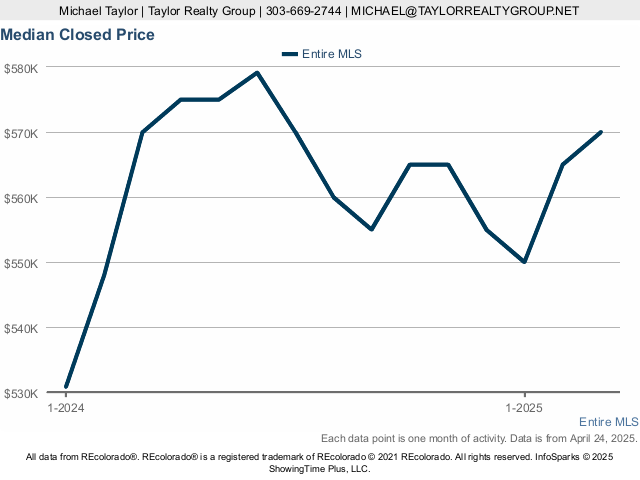 For my number nerds, you KNEW this stat had to happen. With fewer homes for sale and more selling…that variable that grows is sales price! Less supply/equal or more demand = Increased prices. This is why I am saying it's wise for buyers to get in the market now if they are waiting. WHile prices may correct later this year if supply starts catching up to inventory, at that point, interest rates will likely rise too….which will cancel out any price gains for buyers. I will keep a close eye on this as we come into the typical Spring rush and let you know what's up.
MONTHS SUPPLY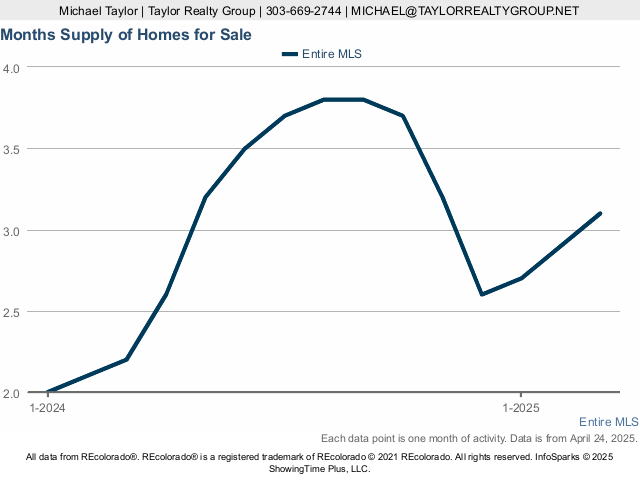 This is where rubber really hits the road (Again!) IF no new homes came on the market, we would be sold out of homes in about 2 weeks. Last year at this time we were closer to 1.25 months of inventory.
For those waiting for a market crash, they will need to keep tabs on defaults/foreclosures/short sales. A lot of homeowners have used their current home as a bank account and drawn out their equity in cash. IF home prices don't hold and they have to unexpectedly sell when they don't have enough remaining equity to cover selling expenses, this can cause quick disaster for the market. What is interesting however is that default rates are still pretty low. I am watching default rates closely and will keep you informed of any trends worth noting in future updates.
Have a real estate question? Fill out this form and I will give you a shout right away!